Tuesday, November 02, 2004
US Election Night Liveblogging
23:53 PST: Gonna call it quits at Campaign HQ and watch the rest at the hotel.
---
22:46 PST: I took a couple of pictures of the venue a few hours ago, before the crowd built up.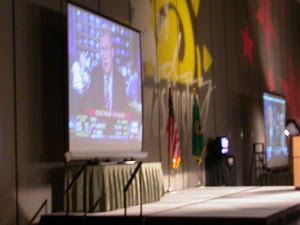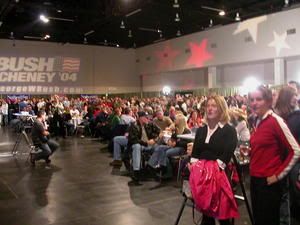 ---
22:35 PST: The WA governor's race is really tight. Here's the scene when Dino Rossi took the slimmest of leads.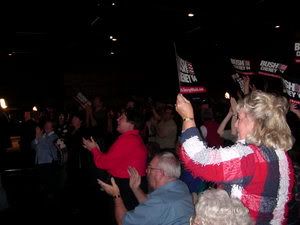 ---
22:17 PST: While I was away, Fox called AK for Bush (pretty easy call). This means that Fox has Bush at 269 electoral votes.
---
21:42 PST:
Fox News calls Ohio for George W. Bush.
---
21:40 PST: 77% of all SD precincts reporting and Daschle is behind Thune by >3700 votes.
---
21:35 PST: In OH, Clark County is currently at Bush 51% Kerry 49%.
The folks at the Guardian
can officially begin kicking themselves.
---
21:22 PST: Fox belatedly calls FL. Still pretty tense over OH. Bush called in CO by ABC.
---
20:52 PST: Crowd goes wild that Daschle is lagging.
Here is Bush winning Florida: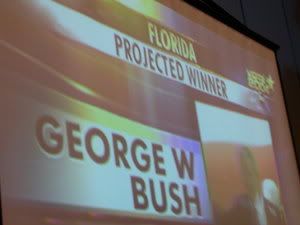 ---
20:39 PST: It's about time! FL goes red: Bush 237 Kerry 188 on ABC. Crowd goes berserk.
---
20:34 PST: Bush is ahead by 1% in WA. 6% of precincts reporting.
---
20:32 PST: By the way, there's no wi-fi here, but there is a table off to the side with tons of Internet connections and 8 laptops attached (including my own). Current count on Yahoo is Bush 210 Kerry 199.
---
20:10 PST: It's weird having the WA GOP chair talk up the crowd as "west coast blues" start coming in on the TVs behind him.
---
19:57 PST: Dammit Pennsylvania went blue.
---
19:51 PST: They just called
NM
AZ for Bush. =)
---
19:34 PST: A review of my day so far.
Left UBC with fellow Young Tories at about 10 AM.
Got to Bellevue at about 2 PM.
Reached the call centre soon after. Did last-minute get-out-the-vote calling for about two hours or so.
Left some time after 4 PM. Back to hotel room to watch some forbidden TV (in Canada).
Got to the Meydenbauer at about 10 to 7.
They just showed updated OH and FL counts and people are cheering.
---
I'm at the Meydenbauer Center right now, HQ for the Washington state GOP campaign night. Current count on Yahoo: Bush 192, Kerry 112.