Monday, November 22, 2004
Happy Corner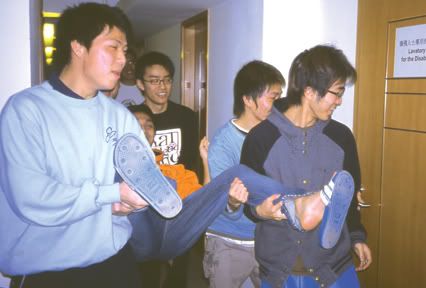 As I try to ease myself back into blogging, after an unintended midterm-induced sabbatical, I'm going to start off with a light-hearted fare. This (via Simon World) is why even though it may suck to take tests, I'm still glad that I'm attending university in Canada, as opposed to Hong Kong:
Suddenly, three to four students rush over to you. They lift you up, they split your legs apart and then they slam your sexual organ right into a post or a wall corner. The name of the game is Happy Corner, and this perverted game is the method by which university students communicate and bond with each other.
Chinese readers can laugh even harder at the original campus newspaper article. Of course, the university administration isn't pleased. I don't blame them, for I dare not imagine the sort of damage this can cause.
Mainstream newspapers that have covered the phenomenon include
The Sun
,
Ming Pao
and
Sing Tao
(articles in Chinese).