Sunday, October 10, 2004
Aussies Are Cool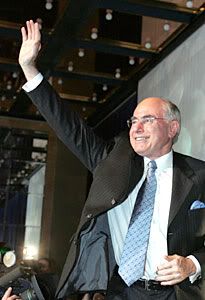 Tim Blair seems
relieved
, and I don't blame him, because the John-John duo that I
do
like
won the election down under
.
Domestically, both the Coalition and Labor were pretty disgusting splurgers, but there was only one obvious choice for securing Australia and the Southeast Asian region.
Thank goodness Aussies don't vote on looks (although John Anderson can probably swoon some ladies).
The Currency Lad has a pretty detailed take on why the ALP lost (again) (via Poll Vault).
I suppose I'll stop
paying attention
(at least until
Peter Costello takes over
) once the
Senate results
come out.